Innovative stimulus spending in Kansas City
ASK THIS | June 19, 2009
The Kansas City Green Impact Zone, a large, low-income area, could be a stimulus model for the nation. As Judith Bell explains it, the 150-block section is slated for a major economic makeover, thanks to a strong effort by political and community groups.
By Judith Bell
jbell@policylink.org
Many states and cities have moved quickly to spend their part of the $787 billion federal stimulus package. Plenty of conventional spending is under way – highway interchanges, bridges, etc. But is there anybody out there being innovative, smart, and forward-thinking?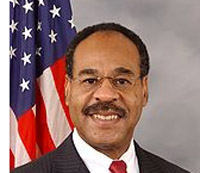 One promising project is the Kansas City Green Impact Zone, a targeted green revitalization effort that supporters hope will bring as much as $200 million to a 150-block, mostly poor, economically depressed section of the city. Backed by Rep. Emanuel Cleaver (shown above), Mayor Mark Funkhouser, a unanimous city council, and dozens of community groups, the project could be one of the stimulus package's signature economic development projects.
What is the Kansas City Green Impact Zone?
The Green Impact Zone will make this low-income neighborhood into a beacon for smart, green, sustainable economic growth by targeting public investments to improve public transit, weatherize homes, and build a "green sewer' demonstration project.
What specific projects would be included in the Zone?
Weatherizing 2,500 homes inside the Zone, to improve efficiency and reduce energy costs for thousands of families.
Creating and expanding "green job" training programs for community residents, helping residents (young and old) get a boost onto the career ladder in an expanding industry.
Improving public transit, especially by building a bus rapid-transit line to better link residents to economic opportunities throughout the region. (In some of these neighborhoods, more than one-third of residents don't own cars and are entirely reliant on public transit.)
Planting vegetation for a "green sewer" project. Kansas City already had success planting vegetation elsewhere in the city to soak up storm-water and keep it out of the city's sewer system. A similar project in the Green Impact Zone would help ease an overburdened sewer system and beautify the neighborhood.
Creating a "Smart Grid" electrical grid that would help track and respond to real-time energy use, keeping costs and waste down.
Where is the zone and who lives there?
The zone is bordered on the west by Troost Avenue, on the north by 39th Street, on the south by 51st Street and on the east by Prospect Avenue and Swope Parkway.
The area has some of the highest unemployment rates in the city – up to 55 percent in some places. The median household income is just $22,397.
How did this idea come about?
The idea originated with Rep. Cleaver, the city's former mayor and now a member of the House Financial Services Committee and the Speaker's Select Committee on Energy Independence and Global Warming. Then elected officials and leaders at the Mid-America Regional Council worked with community groups to ask residents what they wanted to see. The answer that came back was deep, and smart. They wanted more effective economic development, more jobs, better job training, and a greener community.
You can see from the list of partners associated with the Zone that it is really a community effort: the State of Missouri, City of Kansas City, Mid-America Regional Council, Kansas City Power & Light, Ivanhoe Neighborhood Association, Blue Hills Neighborhood Association, Manheim Neighborhood Association, 49/63 Neighborhood Association, Town Fork Creek Neighborhood Association, Brush Creek Community Partners, University of Missouri Kansas City Center for Economic Information, Metropolitan Energy Center and the Kansas City Crime Commission
What can other cities learn from the Green Impact Zone?
It will probably be a year or two before we can see the real impact of the Zone, but the early stages are already worth replicating. Bringing community partners in early as planning partners can bring new ideas and innovation.
The ideas that came out of the discussion aren't revolutionary – in fact, they're already being done piecemeal in other cities. But the comprehensive, community-centered approach sets this project up for long-term success by developing a much-needed neighborhood revitalization strategy from relatively simple and focused infrastructure investments.
By investing in a structured and cohesive way like this, community leaders hope to create a new economic model for other communities in the region.
Is there still time for other cities to follow the lead?
Simple answer: Yes. While some projects have already been green-lighted or are under construction, hundreds of billions of dollars in stimulus funds remain unspent. Though the foremost imperative of the stimulus is to create jobs quickly, it also should set up communities for long-term, sustainable economic progress. By bringing community leaders and residents into the process and integrating their needs into the government's spending plans, more innovative and vibrant ideas like the Green Impact Zone will take root.
PolicyLink, Judith Bell's organization, is working with Kansas City political and community leaders to implement the Green Impact Zone plans.