New Chevrolet cars on sale at a Los Angeles dealership. (AP photo)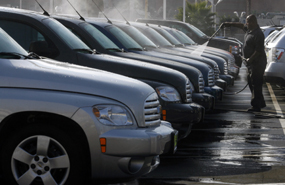 A Detroit collapse is seen doing damage globally
COMMENTARY | December 14, 2008
Japan, Germany, India could be hard hit if American automakers are allowed to go under. (The overseas press.)
By Lauren Drablier
lauren.drablier@sciences-po.org
PARIS—The world is analyzing the failure of the American auto industry and its possible consequences. There is general agreement that a bailout, or bridge loan, for Detroit is needed to save millions of jobs—and not just in the United States.
Many say that the hardest hit will be suppliers for US auto companies but that repercussions will be felt in many different industries, and with Japan, Germany and India expected to be the countries hardest hit. Nevertheless, many agree that only time will tell what is to come.
In US car industry bailout failure: the implications, the UK's The Telegraph takes a look at what the crisis in the U.S. auto industry means for Britain and ultimately believes that the effects will run much deeper:
"Once dominant on the world stage, the fate of the ailing American motor industry has become as vivid a symbol of recession as the rows of repossessed houses.
"The same steep falls in car sales seen in the United States have been experienced by dealerships in this country as British consumers also tighten their belts and postpone big purchases. In addition to the US car makers' British operations, other manufacturers here are also vulnerable because of the economic crisis.
"About 190,000 people still work directly in motor manufacture in the UK with another 850,000 in the industry as a whole, according to the Society of Motor Manufacturers and Traders. Thousands of jobs in Britain depend directly on the US car makers which are now under threat.
"The failure to reach a deal on Capitol Hill has sent share prices around the world downward. In London the FTSE 100 Index was trading more than 180 points lower by the middle of the day, further denting ordinary people's investments.
"Traders have been assessing the possible knock-on effects of a collapse on the wider economy not just in America but around the world."
The UK's Sky News sees the vote not to bailout US auto makers as a disastrous decision for the world's economy in Car Vote May Tip US Into Depression:
"In a callous and calculated attempt to undermine the new president Barack Obama – who only has to wait until January 20th – Republicans in the Senate have for political and ideological reasons sent shivers up the spine of an already spineless auto industry by defeating their rescue package and will be responsible for a depression if one occurs.
"What happens if the US auto industry is allowed to collapse? It could mean the end of American manufacturing. If this happens, it is projected to add another two million people or more to the unemployment rolls. This could mean double-digit unemployment in the US in a very short time. Already there are 30 million Americans on food stamps – one tenth of the 300 million American citizens.
"If this happens, it will undoubtedly have devastating ripple effects. Suppliers of auto parts, car dealerships and other related businesses will also go under.
"The repercussions of this disastrous decision will be felt in the UK and throughout the world.
"This rescue legislation is being requested at a bad time politically. "Bailout fatigue" is clearly setting in with the voters. Members of Congress are hearing from their constituents that they are unhappy with how they handled the financial bailout – too much money with no strings and not much in the way of positive results for the economy.
"Although there is no question things must change in US auto manufacturing, now is not the time to dramatically adjust an industry which is linked to one in ten jobs in America.
"The defeat of this legislation is a parting political shot from a group of Republican members of US Senate who wanted to put on a political show to make them look good to their constituents.
"They saw this as an opportunity to make an ideological stand against unions with little regard for the collateral damage this vote would cause to the US and world economies.
"This vote may be the last straw that tips the economy from recession into depression.
"It is now up to George W Bush as to whether he is willing to save this industry for another month until the new president and Congress take the reigns of power or leave to his successor a country on the verge of a depression."
The Star of Canada shares the views of many that the auto companies have essentially put themselves in this position and believes this as an opportunity for Canada to become "powerhouse of the new international auto industry" in Cost of auto industry aid could exceed any benefit:
"Everyone agrees that bankruptcy for Detroit's Big Three is not an option. That's why, after the Republican senators balked at a $15 billion (U.S.) bailout package last week, the White House immediately stepped in to provide the money from other funds. Ottawa and Queen's Park quickly followed suit.
"But what no one says openly is that the North American auto industry already is potentially bankrupt and no one knows how to save it.
"The big brains in Detroit and the unions in Canada and the United States have run the industry for decades without seeking any input from anyone. They have treated themselves very well with hefty bonuses, corporate jets and, on the union side, with good paychecks, generous benefits and pensions that many workers enjoy at age 55.
"And even if they don't provide a full apology to Canadians for the mess they led us into, they should at least start taking responsibility, explain what went wrong and stop blaming and blackmailing others.
"Now I'm wondering whether we, with Canadian taxpayers' money, are about to help Detroit's Big Three restructure themselves into companies that produce parts for the world's surviving auto makers. It's one thing to give money to auto makers that will give contracts to Canadian parts companies, but quite another to give money to firms that are going to restructure themselves as parts producers.
"If that's the case, our priority should be to promote and help Canadian companies that are world leaders in the parts industry. Canada can turn this economic mess into an opportunity to become the powerhouse of the new international auto industry. We have the expertise, the manpower and the resources. The only thing missing is political vision.
"…It might be worse to be fast and wrong because what's at stake is $6.8 billion from Canadian taxpayers. We cannot afford to waste that kind of money by giving it to the same business leaders who landed us in this mess, won't apologize for their mistakes and won't tell us how to fix it."
In US car giants counting the days to bankruptcy, Australia's The Age dissects the effects on Australia:
"The failure of General Motors — the company has said it has insufficient funds to make it to the end of the year — also casts doubt over the future of GM's overseas operations, including its Holden plant in Australia.
"Australian investors were jolted by the collapse of the US Government's car industry bail-out, as losses in an already weak local market accelerated late yesterday.
"But despite the ominous signs from the US, our Industry Minister said last night that the Australian industry would come through the latest crisis.
"Senator Kim Carr said the Rudd Government was disappointed with "this hiccup", but officials in Canberra remained confident that a revised bail-out could be secured in the US, either under President George Bush or under the pro-manufacturing President-elect Barack Obama.
"'It's a question of when, not if, a settlement is reached on this issue,' Senator Carr told The Age.
"The Government is not concerned about the position of Holden or Ford in Australia, because the funding was not for the Australian subsidiaries."
The China Post analyzes the effects on the Asian auto industry if the Big Three go under in Japan's automakers at risk:
"If a chain is only as strong as its weakest link, Toyota Motor Corp and Honda Motor Co have a problem in the U.S. market directly tied to Detroit's financial crisis.
"Analysts warn that bankruptcy for either GM or Chrysler could cause a cascade of failures at their suppliers.
"That would increase the pressure on better-capitalized Japanese automakers to extend financial aid to keep their production lines running in states from Texas to Ohio, a costly move at a time when auto sales remain down and cash is scarce.
"While no automaker would be spared in the shakeout, the deep U.S. presence of Toyota, Honda and Nissan Motor Co make them particularly vulnerable to any supply disruptions, analysts said.
"Japanese automakers now represent 40 percent of U.S. auto sales. They also build more than 60 percent of their vehicles sold to U.S. consumers in North America.
"Fifty-eight percent of General Motors Corp's suppliers and 65 percent of Ford Motor Co's suppliers also supply Asian manufacturers. By comparison, 37 percent of GM's suppliers have ties to European automakers.
"Merkle and other analysts said a bankruptcy by an automaker would force many suppliers into liquidation because of the near impossibility of finding financing needed to restructure. 'If suppliers liquidate, you won't have components any more. It's not just GM, Ford, and Chrysler. It's Toyota, it's Honda and it's Nissan,' Erich Horwath Merkle, an analyst at Crowe said."
In US Auto Bailout Failure Spells Uncertain Times for Europe, Germany's Deutsche Welle examines the effect on the European automakers, focusing on Germany, home to Opel, Daimler, BMW and VW:
"Opel, which is owned by GM, was not affected by the failure of the US auto bailout, but is nonetheless counting on funding guarantees from the German government to help it endure the current economic downturn.
"The German government has told Opel that any financial assistance comes with the non-negotiable requirement that the funding not find its way back to parent company GM, which has warned it faces a total collapse without US government assistance.
"'If one of the big auto companies goes bust in the US, this could see a collapse in the entire supply chain,' said Heino Ruland, a strategist at Frankfurt Finanza.
"This decreased demand has led to German automakers such as Opel, Daimler, BMW and VW cutting or considering cutting output levels, which means parts suppliers could be hit hard further down the chain.
"To add to their woes, auto industry companies such as parts producers have been reclassified by banks as high-risk loan applicants, further drying up cash flows and increasing the possibility of redundancies.
"In Germany, around one in five in the workforce is employed either directly or indirectly in the auto sector. The car parts industry is a key link in this chain, without which millions of jobs would be at stake.
"'If the supply chain breaks, that will have a dramatic impact on the whole automotive industry in Germany and the employees in this key sector,' VDA President Matthias Wissmann said. 'The risk is growing every day -- this is now the eleventh hour."'
The Press Trust of India looks at Obama's reaction to the proposed bailout in US auto industry failed to adopt to challenging times: Obama:
"Poised to preside over a crumbling US economy, President-elect Barack Obama today lashed out at America's struggling auto industry for its failure to move quickly on his advice to adopt a new business approach and technology to stay competitive.
"'I raised concerns about the health of our auto industry a year-and-a-half ago when I spoke to industry leaders in Detroit. I urged them to act quickly to adopt new technologies and a new business approach that would help them stay competitive in these changing times,' Obama said at a press conference…
"While blaming the American auto giants for the failure to move quickly to address the challenges, Obama said the nation cannot "simply stand and watch" the industry collapse."
France's Euro News examines the world-wide consequences if the Big Three are not offered a rescue plan and also highlights the catastrophic effects it will have on American workers in Last chance saloon for US car industry:
"'The ship is sinking, now is not the time to figure out why it's sinking, now is the time to launch the lifeboats,' said Peter Dodd, an auto engineer.
"Any collapse would also ripple through to world markets. Asian economies are particularly vulnerable because of their dependence on exports. Chief Investment Strategist Dariusz Kowalczyk said: 'The risk is that there will be much bigger losses among US employees, which will probably deepen the recession across the Pacific. If this risk materializes, the entire Asian region will take much longer to emerge from our recession and therefore stock prices have to fall.'
"Seen as the heart and soul of US manufacturing this proud industry now faces the stark reality of becoming a museum relic."
In Bush sneaks through host of laws to undermine Obama, South Africa's Mail & Guardian believes that President Bush is trying to undercut Obama before he takes office in January through "midnight rules" that will affect the auto industry, ultimately making it harder for Obama to solve the current crisis;
"By the time he vacates the White House, he will have issued a record number of so-called "midnight regulations" – so called because of the stealthy way they appear on the rule books – to undermine the administration of Barack Obama, many of which could take years to undo.
"America's attention is focused on the fate of the beleaguered car industry, still seeking backing in Washington for a multibillion-dollar bail-out. But behind the scenes, the "midnight" rules are being rushed through with little fanfare and minimal media attention. None of them would be likely to appeal to the incoming Obama team.
"The White House denies it is sabotaging the new administration. It says many of the moves have been openly flagged for months. The spate of rules is going to be hard for Obama to quickly overcome. By issuing them early in the "lame duck" period of office, the Bush administration has mostly dodged 30- or 60-day time limits that would have made undoing them relatively straightforward."
The Argentina Star scrutinizes the Potential collapse of U.S. automakers hits industry worldwide:
"The breakdown of a planned bailout for U.S. automakers is starting to hit manufacturers in other countries.
"U.S.-based General Motors said Friday three plants in Mexico and three plants in Canada will close temporarily as it slashes production to cut costs.
"Automakers and parts suppliers in India are also worried. Indian car sales fell by almost 20 percent in November. Suppliers said the collapse of a U.S. car company could have a drastic impact on exports, both to the U.S. and to Europe.
"Some countries have already moved to stabilize their car makers. Earlier this week, Sweden said it would give Volvo and Saab more than $3 billion in emergency loans."