Saberi talks about 'fire under the dirt' (AP photo)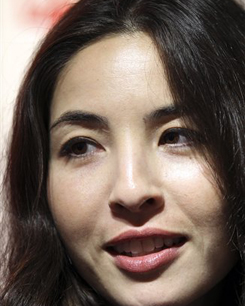 An interview with Roxana Saberi
COMMENTARY | November 08, 2010
The journalist and author, accused of being a CIA spy and imprisoned in Tehran for more than 100 days, discusses what life is like for ordinary Iranians. She describes a rich, alert citizenry, connected via the Internet and other means despite decades of government suppression.
By Nonna Gorilovskaya
nonna@niemanwatchdog.org

In June 2009, following the re-election of President Mahmud Ahmadinejad, Iran erupted in mass pro-democracy demonstrations that became known as the "Green Revolution." Clashes with the authorities in Tehran left dozens of protesters killed and hundreds more arrested. Since then, the opposition has accused the regime of illegal executions as well as physical abuse, including rape, of those still imprisoned. While the protesters failed in their immediate goal of reversing election results, the demonstrations exposed the disconnect between the regime and the rest of the population.

Iran is a modern, diverse country of more than 67 million and a very young population—the median age is 27.6 years. Farsi is one of the most popular languages in the blogosphere, and the protesters successfully used Twitter and other social-networking sites to organize and counter government's misinformation and media censorship.

While the religious authorities attempt to make everything from politics to dress and haircuts conform to their notions of proper Islamic behavior, people constantly test and break the bounds of the permissible, especially in the cities. Illegally-installed satellite devices provide risqué Spanish telenovelas and plenty from American TV. Vices from prostitution to drugs are on offer in Tehran and elsewhere. Sometimes the government itself surprises Westerners, as in its funding of sex-change operations. Like other non-democratic societies, however, when authorities choose to enforce the rules, look the other way or make the legal illegal is highly arbitrary.

Iranian-American journalist Roxana Saberi was working on a book about Iranian society when she was arrested in her Tehran apartment on January 31, 2009. She was accused of spying for the CIA and held for 100 days in Evin prison, where many political prisoners are locked up. Following an intensive international campaign, Saberi was released and has since returned to the U.S.

"Iran is a sophisticated nation with a rich culture and civilization spinning thousands of years and a history of democratic movements," Saberi writes in her memoir, Between Two Worlds, which details her imprisonment. "While suppression might silence people in the short run, it breeds discontent and distrust toward the regime in the long run. It can also push advocates of moderate change underground, where they might turn from evolutionaries to revolutionaries."

In an e-mail interview, Saberi answered a few questions for me about the interaction between Iranian-Americans and their relatives in Iran, how Iranians navigate censorship, and the prospects for new pro-democracy demonstrations.

Q. There are big Iranian communities in the U.S. Is there much travel back and forth? Is there a lot of electronic correspondence? Is money sent back to Iran?

Saberi: Yes, there is a lot of travel back and forth, although I have met some Iranians living in America and elsewhere who have become afraid to go back to Iran to visit their families, especially since Iran's June 2009 presidential election and ensuing crackdown.

There is a great deal of e-mail and Internet correspondence as well, although many Iranians feel that discussing certain topics (like political issues) through these avenues can be risky. Many Iranians in the U.S. send money back to Iran, often through unofficial or indirect channels, as U.S. banks do not allow transfers to Iranian ones.

Q. How connected are people in Tehran and the rest of the country to the rest of the world? Do they keep up with events? What about censorship?

Saberi: Iranians, especially the youth, are quite connected through travel, communications and the Internet. Of course, government authorities have filtered many websites and often block satellite signals of programs, such as VOA Persian and BBC Persian, beamed in from abroad. The only Iranian broadcaster allowed is state-run broadcasting. I think many Iranians realize that local journalists experience both state-imposed censorship as well as self-censorship and, especially with the print media, readers learn to read between the lines. Many Iranians are very tech-savvy, and they often try to find ways around Internet filters.

Q: What should Americans know about ordinary life in Iran?

Saberi: There are many paradoxes in Iranian society. For example, oftentimes what people do in private is considered illegal in public. In private, you can find people going to mixed-gender dance parties, drinking alcohol and watching satellite TV. However, even this freedom is not absolute and sometimes the authorities punish people for taking part in these activities. Many Iranian youth have told me the stark differences between the ways they live their lives in private versus in public have created a "duality" in their identities.

Q. With the brutal repression in the past year, do you think it likely there will be new, big demonstrations?

Saberi: The regime has made clear in past demonstrations that any protestors will be dealt with harshly. Moreover, in June of this year, two main opposition leaders called off plans for a rally to mark the first anniversary of Iran's disputed presidential election in order "to preserve people's lives and property," after failing to receive a government permit.

Beatings, shootings and imprisonments have scared many opposition supporters into silence. But this does not mean that their demands have disappeared. Instead, resentment has bred among a large part of the population. Many Iranians have said their situation is like âtash zire khâk, or "fire under the dirt." One day, the wind will blow the dirt aside, and the flames could arise again.