(AP photo)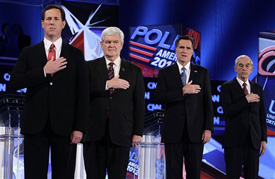 Anybody but Romney -- except Gingrich, Santorum or Paul
COMMENTARY | February 02, 2012
The low Florida primary turnout -- a decline of 15 percent from 2008 -- continues to show GOP voters as indifferent to their presidential candidates. Only South Carolina, where Gingrich won big, seems to have been an exception.

By Barry Sussman
bsussman@niemanwatchdog.org

Voting in Florida Jan. 31 was down 15 percent from the state's 2008 Republican primary, continuing a pattern of low turnout. Of the four contests until now – the Iowa GOP caucuses and primaries in New Hampshire, South Carolina and Florida – only one, South Carolina, showed a real increase this time around.

From these results and from exit polls, what seems apparent is that the GOP candidates just aren't attractive to many Republican voters, at least not yet. There is no predicting what effect lack of enthusiasm in primaries has on a general election; a party with lower primary turnout has sometimes won the presidency. But that will provide little comfort to Republicans if the pattern continues. The concern will be that an unpopular candidate with no coattails may re-elect Obama and enable the Democrats to hold the Senate and retake the House.

Of the four contests, only Florida's was a closed primary, not open to independents or cross-over Democrats, making it the clearest test of rank-and-file distaste for the candidates. In 2008 1.95 million voted; this year 1.66 million did. The drop occurred despite an increase of 25,000 registered Republicans in the state.

In South Carolina on Jan. 21, voting increased by 35 percent over 2008. One reason was greater participation by independents and cross-over Democrats, since, unlike four years ago, there was no Democratic presidential primary this year. In addition, the weather this year was mild while in 2008, a columnist at the State newspaper in Columbia told me; Republicans had to brave "cold, and in some cases snowy and icy, weather to vote." She said turnout was lower than expected that year and "some attributed it to the weather and a lackluster slate of candidates."

Because independents and Democrats participated, what isn't clear is just how much GOP rank and file voting increased in South Carolina. But there is no denying that Newt Gingrich, with two successful, aggressive debate appearances, had real appeal: He got 243,172 votes, or 70 percent more than the 2008 winner, John McCain, and only 12 percent fewer than McCain and second-place finisher Mike Huckabee combined. So a main question going ahead will be whether Gingrich can repeat that kind of performance in other Old South states, or whether South Carolina was pretty much one of a kind for him.

Click here for an earlier story in which I dealt with low voter turnout in Iowa and New Hampshire.