An Air Force Sgt. throws debris into a burn pit at Balad Air Force Base in Iraq. (DoD photo)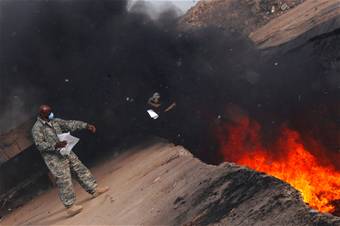 How many U.S. soldiers were wounded in Iraq? We have no idea
ASK THIS | December 30, 2011
The true number of military personnel injured in Iraq is in the hundreds of thousands -- maybe even more than half a million -- if you just go a bit beyond the Pentagon's narrowly-tailored definition of 'wounded in action'. So why isn't anyone keeping track?
By Dan Froomkin
froomkin@niemanwatchdog.org
Reports about the end of the war in Iraq routinely describe the toll on the U.S. military the way the Pentagon does: 4,487 dead, and 32,226 wounded.
The death count is accurate. But the wounded figure wildly understates the number of American servicemembers who have come back from Iraq less than whole.
The true number of military personnel injured over the course of our nine-year-long fiasco in Iraq is in the hundreds of thousands -- maybe even more than half a million -- if you take into account all the men and women who returned from their deployments with traumatic brain injuries, post-traumatic stress, depression, hearing loss, breathing disorders, diseases, and other long-term health problems.
We don't have anything close to an exact number, however, because nobody's been keeping track.
The much-cited Defense Department figure comes from its tally of "wounded in action" -- a narrowly-tailored category that only includes casualties during combat operations who have "incurred an injury due to an external agent or cause." That generally means they needed immediate medical treatment after having been shot or blown up. Explicitly excluded from that category are "injuries or death due to the elements, self-inflicted wounds, combat fatigue" -- along with cumulative psychological and physiological strain or many of the other wounds, maladies and losses that are most common among Iraq veterans.
The "wounded in action" category is relatively consistent, historically, so it's still useful as a point of comparison to previous wars. But there is no central repository of data regarding these other, sometimes grievous, harms. We just have a few data points here and there that indicate the magnitude.
Consider, for instance:
There are surely many other data points out there. But a comprehensive tally escapes us. In the meantime, the figure for "wounded" constantly cited by politicians and the media does not come close to reflecting the real cost to the servicemembers who went to fight in George W. Bush's war of adventure and will never be the same again.
We owe it to them to make a full accounting of their sacrifice -- and then never forget it.
Casualties of war
Posted by Don Greenwood
01/02/2012, 05:48 PM
One of those unrecorded wounded is lying in the snow near Mt. Rainer after having shot four people at a party, and killing a park ranger who got in his way. Happy new year........