Seidenberg at the Council on Foreign Relations in New York on April 6th. (AP photo)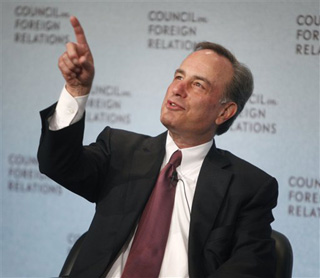 We're No. 1, says Verizon CEO Seidenberg
COMMENTARY | April 17, 2010
Never mind that Hong Kong's broadband is 200 times faster in downloading, 1000 times faster in uploading than the average U.S. service, and at lower monthly fees.
By Bruce Kushnick
bruce@newnetworks.com

This is embarrassing. On April 6, Ivan Seidenberg, CEO of Verizon, said America is number 1 in broadband, or words to that effect.
In
Hong Kong,
companies are now offering 1 gigabit speeds – 1,000 mbps – and at lower prices than the U.S.'s current broadband.
America's average speed is 5 mbps downloading and only 1 mbps uploading. So Hong Kong is 200 times faster in downloading, and a thousand times faster in uploading speed.
But, we're number 1, right?
Worse, we already paid about $320 billion for a fiber optic service that America never got. Verizon's entire FiOS TV deployment is only in a few million homes; that's it. AT&T's U-Verse should be called reverse because it is based on the old copper wiring and will never reach high speeds.
Seidenberg's comments are laughable to the point of absurd. He states, "Any time government—whether it's the FCC or any agency—decides it knows what the market wants and makes that a static requirement, you always lose." It was the FCC that blocked competition to Verizon and AT&T. It was the states and the FCC that essentially protected Verizon from any investigation of why we're 15th in the world. And no government regulator has had the will to take on Verizon or AT&T for their failure to properly upgrade the networks.
"According to people like Ivan Seidenberg, Verizon's CEO, the U.S. is number one in broadband, no question about it. But one only has to look around the world to see just how specious such claims are. Take Hong Kong as an example. City Telecom made waves a few months ago with its US$13, symmetric 100 Mbps connections. Today, the company slashed prices on its much faster 1Gbps fiber-to-the-home offering; a fully symmetric, 1Gbps connection costs HK $199... or US$26 a month. …
"Hong Kong and the U.S. are almost identical when it comes to GDP per capita, adjusted for purchasing power parity. Hong Kong is one of the densest spots on earth. One wouldn't expect to see this level of price and competition across a country as broad and sprawling as the U.S., but one would expect it to be possible somewhere. Sadly, even some-thing like 100 Mbps is hard to come by in most U.S. cities; 1Gbps is unknown, except to tiny specialty operators, even in a place like New York City."
(Kushnick writes frequently on broadband and related issues for Nieman Watchdog. Click here for a listing of his reports.)
Independent Television Producer
Posted by Public Takeover
04/28/2010, 02:08 PM
Yeah, but nothing can make money in an economy with virtually no internet, which is what we have. Verizon is being paid for not providing service. How's our economy doing?

If you pay the drillmaster a fortune for an artesian well that provides water everywhere--at a depth of one one-thousandth of an inch--are you really providing water? Nobody could live there, let alone do business.