Jordan as keynote speaker at the 1976 Democratic National Convention. (AP photo)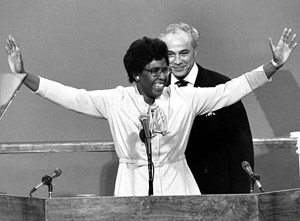 In Texas, thinking about Barbara Jordan
COMMENTARY | March 12, 2011
Noting what would have been her 75th birthday, Dave McNeely looks back on Barbara Jordan's achievements, and friends and admirers create a foundation in her name.
By Dave McNeely
davemcneely111@yahoo.com

AUSTIN--In January of 1967, an unusual and momentous event took place in Austin, Texas: Ms. Barbara Jordan of Houston was sworn in as a member of the Texas Senate.

The fact that a woman was entering the 31-member Senate may not seem like such a big deal. After all, Neville Colson of Navasota had served for years in the Senate, after several terms in the 150-member House.

But when Jordan took the oath, she became the only woman in either the House or Senate that year, and also the first African-American to serve in the Texas Senate since Reconstruction.

Barbara Jordan would have celebrated her 75th birthday on Feb. 21, but she died in 1996, a month before her 60th birthday. She was the first African-American woman buried in the Texas State Cemetery. Fifteen years later, friends and admirers celebrated her birthday by starting a foundation in her name.

That Jordan was elected to the Senate at all reflected her faith in eventual justice. A lawyer and daughter of a well-known preacher, Jordan had built name identification of her own. She lost races in 1962 and 1964 for a seat in the Texas House of Representatives. That was when representatives from Texas' urban counties were still chosen in at-large elections. Candidates had to run county-wide, for designated seats.
She won a Senate seat in 1966, in the first election after the U.S. Supreme Court ordered Texas' legislative districts be re-drawn to reflect the court's "one person, one vote" mandate. Districts had to be roughly equal in population. Harris County, which contains Houston, had been limited to one senatorial district. Suddenly it had three. One took in much of Houston's African-American population. Jordan won it.

She served six years in the Texas Senate, where she charmed even some of the crusty old boars, as conservative as she was progressive. Congressional redistricting in 1971 created a Houston congressional district that largely overlapped Jordan's senate district. In 1972, she became the first black woman from the South ever elected to the U.S. House of Representatives.

Eighteen months later on the House Judiciary Committee, Jordan's speech during its televised inquiry into the Watergate scandal brought her national attention. In her precise, deep voice, (heard here) Jordan noted that when the U.S. Constitution was written in 1787, "I was not included in that `We, the people.'" But amendment, interpretation and court decisions eventually included her, she said. "My faith in the Constitution is whole; it is complete; it is total," she continued, to the committee investigating the burglary and President Richard Nixon's role in it, and the nation glued to TV sets. "And I am not going to sit here and be an idle spectator to the diminution, the subversion, the destruction, of the Constitution."
In 1976, her keynote speech to the Democratic National Convention was ranked fifth in the top 100 speeches of the 20th Century. By 1978, Jordan was beset by a neurological deterioration that limited her mobility. She did not seek re-election that year. When she left Congress in 1979, she returned to Texas to teach ethics at the LBJ School of Public Affairs. In 1992, she again delivered the keynote speech at the Democratic National Convention.

Her foundation's organizers, initially led by Austin attorney William B. Hilgers, her estate executor, decided the non-profit at first "will not fund academic research nor operate specific programs but rather bring together experts to work on campaigns aimed at overcoming injustice and achieving national unity."

The foundation's sub-title underlines its priorities: "For children, for justice, for freedom." Part of the foundation's work will aid development of master teachers. The organizers hope that long after her death, the foundation can help advance the goals Jordan sought to achieve during her life.

# # #

The Barbara Jordan Freedom Foundation's website is at www.barbarajordanfreedomfoundation.org. One of the 21 initial members of the foundation's board of trustees is Mary Beth Rogers, who wrote the most definitive biography of Jordan. Titled "Barbara Jordan: American Hero," the book was published in 1998 by Bantam Press. Rogers was former chief of staff for the late Democratic Gov. Ann Richards, where Jordan was an adviser on ethics. Later Rogers was a teaching colleague of Jordan's at the LBJ School, and still later was president of Austin's public television station, KLRU, for six years.

Another shorter book about Jordan, that includes recordings of some of her more notable speeches, is called "Barbara Jordan: Speaking the Truth with Eloquent Thunder." It was assembled by Max Sherman, who served with Jordan in the Texas Senate. He later became Dean of the LBJ School, where he overlapped with Jordan and taught her ethics course after her death. Another trustee, Sen. Rodney Ellis, D-Houston, an LBJ School and UT law school graduate, has for more than two decades represented roughly the same Senate district Jordan did.