Alpert, on the job
Jon Alpert wins 2009 I.F. Stone Medal
SHOWCASE | August 19, 2009
Veteran reporter and filmmaker is cited for 'tackling topics that others feared to cover and reporting on matters crucial to our society and the international community.'
CAMBRIDGE, Mass. – The Nieman Foundation for Journalism at Harvard will present the 2009 I.F. Stone Medal for Journalistic Independence to Jon Alpert.
An investigative reporter, producer and documentary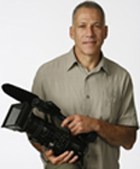 filmmaker whose career has spanned more than 35 years, Alpert, shown at right, has reported on diverse topics ranging from homelessness and health care to post-war Vietnam and criminals in New Jersey. He has been the first – and sometimes only – journalist to cover a number of important international stories and he has served as an eyewitness to many historic events, from the hostage crisis in Iran to the killing fields of Cambodia. Alpert also has gained exclusive access to some of the world's most elusive leaders, including Fidel Castro and Saddam Hussein.
His work has aired on NBC, PBS, HBO and other outlets and he has received a wide range of journalism honors that include 15 Emmys and four duPont-Columbia Awards, just to name a few.
Alpert is being recognized not only for his comprehensive body of work but also the use of new technology in his reporting and his commitment to media access and education for all. Through his Downtown Community Television Center (DCTV), the nonprofit community media center that he co-founded with his wife, Keiko Tsuno, in New York in 1972 and where he serves as co-director, he has helped thousands tell their own stories by offering courses that teach the basics of electronic media.
In announcing the award, Nieman Curator Bob Giles said, "Jon Alpert embodies everything we think of when it comes to independent reporting today. In his work, he has been fearless, whether traveling the globe or searching in his own back yard to uncover hidden truths and shed light on important news developments. He not only deserves this award but our thanks for so consistently asking difficult questions, tackling topics that others feared to cover and reporting on matters crucial to our society and the international community."
Established last year, the I.F. Stone Medal rewards journalistic independence and honors the life of investigative journalist I.F. Stone. The award is administered by the Nieman Foundation for Journalism at Harvard and its Nieman Watchdog Project and is presented annually to a journalist whose work captures the spirit of independence, integrity and courage that characterized I.F. Stone's Weekly, published 1953-1971.
Alpert will receive the I.F. Stone Medal in a ceremony at American University in Washington, D.C. on October 1, 2009, and will talk about his career as an independent reporter. His comments will be followed by a panel discussion on his work and the broad theme of journalistic independence.
The 2009 I.F. Stone Medal Selection Committee was chaired by journalist and authorJohn R. (Rick) MacArthur, president and publisher of Harper's Magazine. The committee also included Pulitzer Prize-winning journalist Roger Wilkins and award-winning journalist, novelist and author Patricia O'Brien, who was a Nieman Fellow in the Class of 1974.The group made their selection from recommendations presented by distinguished journalists who, by design, remain anonymous.
In recommending Alpert for the I.F. Stone Medal, his nominator noted that "he has taken on the toughest issues, local to global, personal to political, with integrity and determination. He has exposed the failures of government and corporate policies and given voice to those whose stories have been neglected or excluded from mainstream media…Alpert has remained grounded in the vision of media that is made by and for the people he serves."
Too numerous to list in full, Alpert's many films and reports have documented some of the most important social issues and compelling domestic and international stories of the past four decades. In 1974, he became the first American journalist in ten years to produce a television program inside Cuba. In 1977, he made the first television program in Vietnam since the end of the war. From 1979 to 1991, while working as an independent journalist for NBC News, he covered the Mariel boatlift in Cuba, the mujahedeen in Afghanistan, corruption in the Philippines, glasnost and perestroika in the Soviet Union and the Sandinistas in Nicaragua. He also traveled to Angola and Korea and in 1991, filmed scenes of the devastation caused by U.S. bombing in Iraq during Operation Desert Storm, becoming the only reporter to leave the country with uncensored footage.
Alpert additionally has investigated environmental problems, occupational health issues and
the decline of family farms. His portraits of American culture produced for NBC's "Today" show won a special National Emmy for their unique contribution to American television.
In recent years, Alpert has produced new documentaries for HBO on subjects such as the prisoners of Rikers Island, street gangs in New York, crack drug use in Lowell, Mass., his own aging father and the wars in Iraq and Afghanistan. His complete
biography is available on the DCTV Web site, www.dctvny.org.
More information about I.F. Stone's life and work and the medal created in his honor can be found online at
www.ifstone.org
.
Established in 1938, the Nieman Foundation for Journalism at Harvard administers the oldest midcareer fellowship program for journalists in the world. The fellowships are awarded to journalists of accomplishment who come to Harvard University for a year of study, seminars and special events. More than 1,300 journalists from 89 countries have received Nieman Fellowships. The foundation also publishes Nieman Reports, the nation's oldest magazine devoted to a critical examination of the practice of journalism, and is home to the Nieman Journalism Lab, which identifies emerging business models and best practices in journalism in the digital media age. Additionally, the foundation runs Nieman Watchdog Project, which encourages reporters and editors to monitor and hold accountable those who exert power in all aspects of public life.
VALENITEE
Posted by JONATHAN BRICEÑOOO
01/16/2010, 12:55 AM
HOLA JON SOI ADRIAN DE MEXICALI
EX TRABAKADOR DE LA ENPRESA VALENITE KISIERA SAVER DE TI
AKI ESTA EL CORREO DE MI HIJOO
JOONATHAN_N.N@HOTMAIL.COM

ESPERO PODERME CONTACTAR CON TIGO